The SCENERY

The original fishing village of Playa de Mogán with its narrow passageways and steps is a jumble of whitewashed houses and apartments clinging to the cliffside. Canaries really do sing in Las Conchas!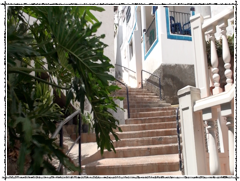 If you have the energy, keep climbing the steps of Las Conchas up to the highest viewing point (Mirador) where you can experience
panoramic views of the whole resort
and well worth the effort! The harbour area, known as the "Venice of the Canaries" or "Little Venice" is a charming new apartment development, yet because it has been tastefully done feels like stepping back in time...plenty of boats and not a car in sight! The roof terraces in this area are bursting with bougainvillea and other gloriously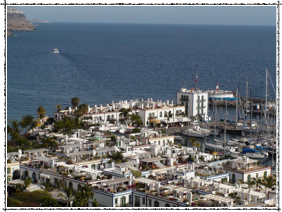 colourful plants. The gardens of banana and papaya trees, palms and bird-of-paradise plants are a real pleasure.  From your
28 Las Conchas accommodation
, you can sit and watch the rooftop 'life' of 'Little Venice' from high above.
To the left of the Marina is the glorious white Sahara sand beach.  A promenade links the beach to the newer developments that stretch back up the valley taking in a shopping centre, new hotel, local garden centre with walks that extend into the valley, offering fantastic views up the valley or back to the beach and across the ocean.

There are plenty of restaurants and 'eating places' to cater for all budgets.  Puerto de Mogan restaurants specialise in serving fresh fish landed within a stones throw at the local fishing harbour as well as other 'Canarian' & international dishes.
The resort offers several banks, two supermarkets and many smaller shops selling either clothes, souvenirs, jewelry and much more.

If you want a haircut or maybe even a tattoo, there are a choice of hair salons and a tattoo bar.  If you need to send an email or surf the web, there are several places where you can get connected, including an Internet Café in the main square.